We're excited to announce that Laura Casey Interiors has been featured in the January/February 2017 edition of the QC Exclusive, a Charlotte lifestyle magazine. Our article "Absence of Clutter" showcases a client's new build in Charlotte. The homeowners wanted to start fresh and bring only their "clothes and kitchenware" to their new house.
The discerning tastes of the client led us to a streamlined, modern design. But like all of our projects, creating functional spaces, not just beautiful ones, was a top priority. The rooms are filled with "contemporary furniture and eye'catching pops of abstract art." Natural light in this home is very important as it gives the modern spaces warmth while accentuating their clean designs.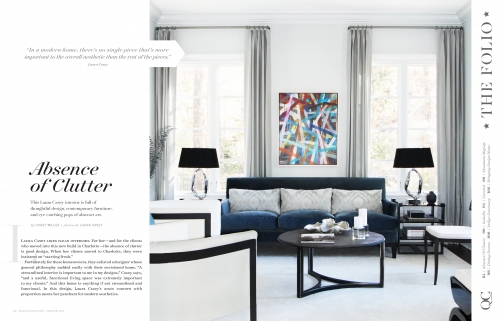 We love sharing favorite projects with readers and look forward to future collaborations with the QC Exclusive.
To read the full article, please click here.