This week I am a guest blog writer for Brika. Brika is an online community which helps connect talented artisans and consumers. They offer high-quality, beautiful, and unique goods. As an interior designer, I'm constantly looking for well-crafted products for my clients, and Brika has a great selection.
5 foolproof ways to maximize a small living space
1 – Color
Color can be used to transform the feeling of a space. Psychologically, darker colors evoke compression while lighter colors make a room feel open and airy. I often opt for light neutrals when picking a color scheme for a smaller space, like in this powder room I designed for a client.
2 – Scale
Choosing an appropriate scale for furniture, lighting, artwork and accessories is extremely important. I prefer table lamps, which are not overbearing. If a table lamp is too big for the space, it makes everything else in the room feel smaller in comparison. I suggest keeping table lamps under 30" high, unless you are decorating a great room big enough to handle a larger scale. I love the scale of the table lamp in the room I designed below.
3 – Mirrors
Another really good trick to making a space feel more expansive is to use mirrors to trick the eye. Incorporate mirrors in an unexpected ways in your design, like in this family room I designed for a client. I used antiqued mirror inlays instead of a traditional back splash for the bar.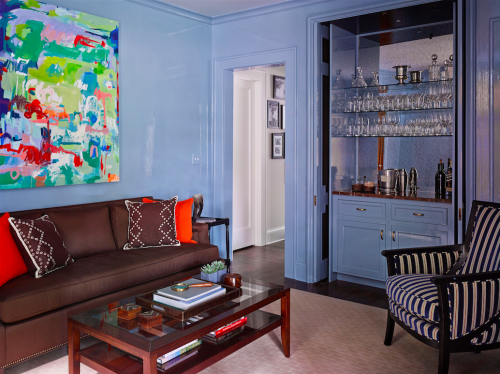 4 – Storage
What is one way to make a space feel instantly smaller? Clutter. Eliminate clutter and you make a room feel more spacious and organized. I love these white and blue Scandanavian Barent Boxes available through BRIKA. They're perfect for storing miscellaneous items and are cute enough to be displayed, but small enough that they could fit underneath a bed if need be.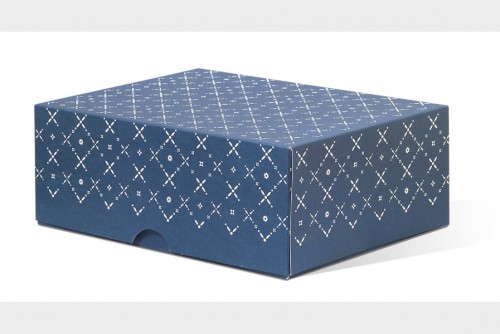 5 – Multi-use Design
Get creative with the functionality of your furniture. I designed this couch/murphy bed hybrid for a client that wanted to get the most out of an extra room in their basement. Custom furniture can helps you utilize every square inch of space.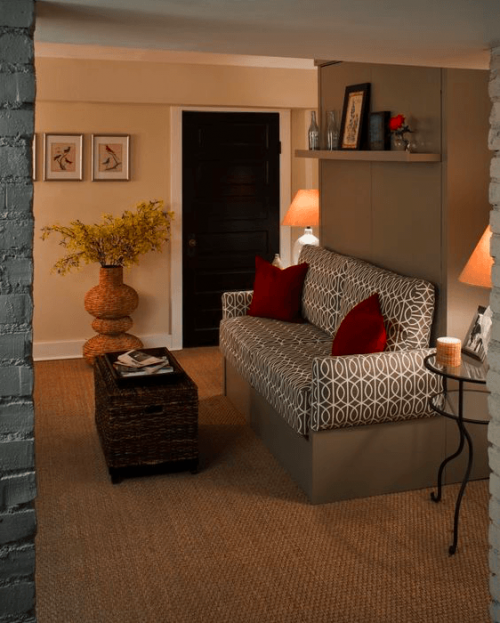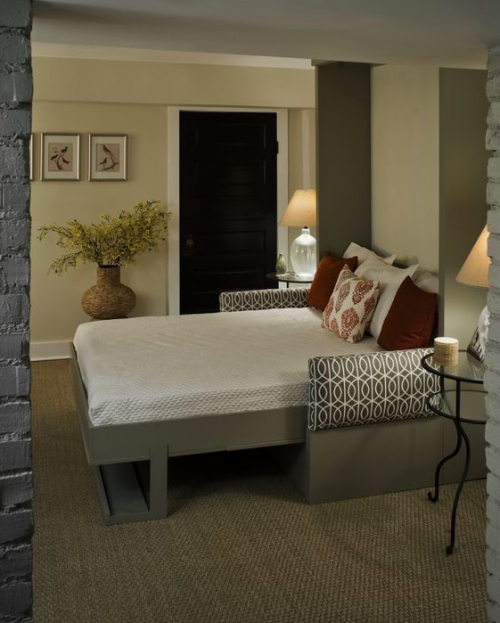 Thanks for reading! Check out really cute gifts ideas that  Brika has to offer by clicking here.
Photography: Chris Edwards for Laura Casey Interiors